Being a student in London comes with its undoubted challenges. On the one hand, it's a city of bright lights, theatres, world-class restaurants, shopping, and sight-seeing, but on the other hand, the word 'expensive' sometimes doesn't come close to describing city life!
That warm glow we all get as students when our student loan hits our account tends not to last long when accommodation and transport costs have been covered, let alone the price of a month's supply of Pot Noodles, which means that alternative means of earning some spare funds need to be found.
Getting a job is one thing, with the capital's fiercely competitive jobs market, and one thing that you should be considering is a longer-term plan. Bitcoin is considered by many a very good investment nowadays, and it also allows for further earning some funds for paying for life's necessities in the capital that allow for more flexibility and don't demand that you leave your student digs. Bitcoin is a cryptocurrency whose value has recently neared an all-time high. But how exactly do you earn Bitcoin, and how does this virtual currency fit with student life in London?
Getting Started
Let's start with the basics. You can use Bitcoin mining hardware to acquire bitcoins. This has nothing to do with donning a hard hat and heading underground, and more to do with mining computers that turn pending transactions into mathematical puzzles, which users can solve, earning bitcoins in the process.
The easier and significantly faster way of setting up a supply is buying and trading, just like you would with a normal currency. There are plenty of apps that allow you to do this with a few simple clicks, avoiding the time and complexity spent on mining. With the value of Bitcoin still on the rise, buying now could reap dividends in the coming months without you lifting a finger.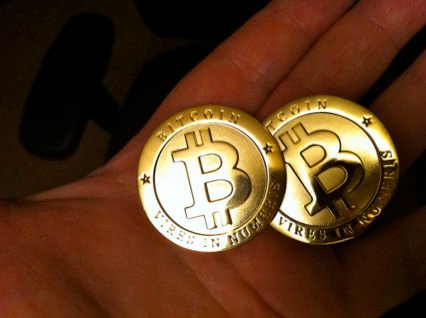 "Nobody gets me Bitcoins!" (CC BY-SA 2.0) by zcopley
Quizzes and Casino Games
Lifting a finger, though, is the fun part! Once you've acquired some bitcoins, the temptation is there to earn more. This is where the real fun begins, because the routes via which you can earn more are perfect for down-time when you're away from the library and the lecture hall. Earning money whilst relaxing is a pretty good combination, and one which Bitcoin readily allows for.
If you already enjoy a pub quiz at the weekend, replicate the enjoyment of the challenge by answering quiz questions. SatoshiQuiz rewards users for correctly answering questions from a number of categories with bitcoins. Daily, weekly, and monthly prizes are available from SatoshiQuiz, rewarding users for their number of correct answers.
If RPG games are more your style, you can play RPG games online to earn Bitcoin. CoinBrawl allows users to create and manage a character online before facing off against other players in a bid to fight for their bitcoins.
As a final option for combining fun and earning potential, you could head to a top online bitcoin casino. Games like blackjack and slots can help you top up your Bitcoin fund, and you can even play live casino games if you prefer something a little more engaging. With Bitcasino.io, you can actually choose the location of your live dealer from locations as diverse as Central America.
The good thing about playing casino games with Bitcoin is that betting limits are often very flexible, so investing a lot from the start isn't necessary. Play video poker, for instance, with Bitcasino.io and you'll be able to place bets from as little as 0.50 mBTC, with jackpots topping 5,000 mBTC, clearly showing the generous potential returns possible when using the cryptocurrency to play online games.
Flexibility and Security
With the hard work done, it's time to start spending those bitcoins! For students in London, there's a handy guide online showing where you can spend your stash of bitcoins, from enjoying a plate of sushi, to getting that tattoo you always wanted, to treating your new mates to a pint down the pub. The list of places where you can spend the currency is increasing all the time, so there's no harm in holding onto your coins before spending them in the future.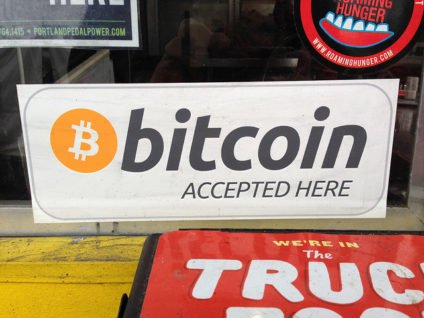 "bitcoin accepted here" (CC BY-SA 2.0) by Francis Storr
For students as well, security when it comes to funds is hugely important. Luckily, when it comes to Bitcoin, security is one of the biggest plus points; storing them in an offline wallet, for instance, offers exceptional protection against computer vulnerabilities. Just think how much safer this seems than carting around bank notes in London.
There's little doubt that when it comes to navigating student life in London, you need funds at your disposal. You may never have thought how opting for Bitcoin could hand you more advantages than sticking solely with GBP, but when you start looking into it, you'll see precisely how helpful this cryptocurrency can be.
Category: Finance