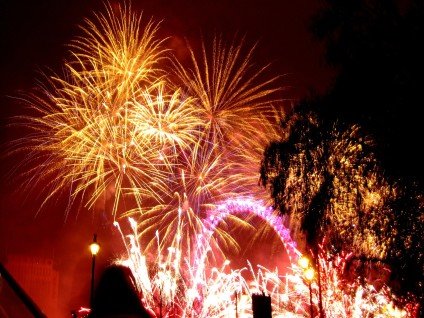 Plan An Unforgettable End To 2015
Ideas for ultimate New Year's Eve party venues in London. See in 2016 at a comedy club, fireworks display, elite celebrity club or an atmospheric pub.
With the end of the year fast approaching, it won't be long before your friends and acquaintances ask how you're planning to see in the New Year. London is without a doubt the best place to be for New Year's Eve – whether you choose to visit the Mayor of London's fireworks, a West End club, a theme pub or just a house party, the atmosphere will always be electric in the capital.
Here are some of the best New Year's Eve parties in London.
Party With Celebs
Can you think of a more glamorous way to start 2016 than by partying alongside London's most rich and famous celebrities?
West End Clubs such as Libertine and Café de Paris have been known to attract celebs such as P. Diddy, Kate Moss, Little Mix and Lindsay Lohan, whereas the Polynesian-themed club Mahiki in Mayfair is a favourite haunt of Prince William and Harry and their cousins Princesses Eugenie and Beatrice.
The best way to ensure your place celebrating in one of these elite clubs, is by booking either a table or a place on the Mahiki guest list well in advance of New Year's Eve. If you're making a large group booking at a high end club, then you can also take advantage of benefits such as free champagne or vodka, queue jumping and even iPads. Contrary to popular belief, anybody can get on a club guest list, you just need to book through Capital A List.
Affordable New Year's Eve Tickets
The Grand Union bars which are located in areas such as Brixton, Camberwell, Camden, Kennington and Wandsworth offer a great way to spend NYE at an affordable price. Their bars charge entry fees ranging roughly between £10-15 including a free glass of prosecco. The Kennington bar is a prime venue to see the fireworks from.
Another option for a cheap NYE night out is at the Pub on the Park in London Fields. They're hosting a party across two of their rooms complete with DJs, prizes and fireworks at midnight. Entry to this pub is free, but as with all pubs that aren't ticketed, make sure that you get there early to avoid disappointment.
Comedy Night
Laugh your way into 2016 at London's Comedy Store. Tickets are priced at £49 and include a line-up of comedians such as MC Paul Thorne, Mike Gunn, Pete Johansson, Marlon Davis and Rob Deering. After the main show, dance the night away with DJs playing till the early hours.
London Fireworks
One of the main attractions in London on New Year's Eve are the fireworks hosted by the Mayor of London. You may have seen the spectacular fireworks on TV before, but they're even better with your own eyes. The display takes place on the River Thames opposite the Houses of Parliament.
The event is ticketed and the main batch of tickets is due to be released in late September through the booking agent See Tickets. Get to the river early to claim the best spot!
If spending New Year's Eve partying on the streets isn't quite your style, then you can get the best of both worlds by attending the Big Bang Boat Party 2015. The boat departs from Festival Pier and takes you on a cruise of the Thames with a front row seat of the fireworks. Tickets cost £224.99 and include a full buffet and unlimited wine, beer and soft drinks for the duration of the 5 hour cruise.
If you want an unforgettable New Year's Eve, it's important to plan ahead. So have a chat with your friends and decide early where you'd like to be before everywhere gets fully booked. Then simply purchase tickets or get on a guest list and look forward to ringing in the bells of 2016.
Category: Entertainment