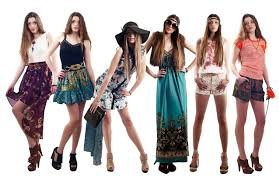 Graduation is drawing ever closer and, whilst you can't wait to be free of dissertation deadlines, the thought of leaving the comfort of uni to try and get your dream fashion job has you breaking out in a cold sweat.
It's always been a tough and challenging industry to crack, but it's harder than ever in today's economic climate.
As you read horror story after horror story about graduate unemployment rates, nailing that dream intern position at Vogue seems increasingly impossible.
Although it's definitely not an easy career path to set for yourself, there are still a few options you might not have thought to explore.
So before you give up on your fashion fantasies for good, we've running through some top tips you need to know…
#1: apply for internships
Internships are a rite of passage in the fashion world. If you've spoken to anyone with industry insight, then you'll have already been told to sacrifice all your spare time to any designer or magazine that'll have you.
Spots are very competitive and normally offer little or no pay for your efforts, but it's a great way of making some contacts and getting a foot in the door.
Keep an eye out online (The British Fashion Council posts its coveted student placement opportunities here), apply for everything you can and be prepared for a few knockbacks before you finally get a yes.
#2: do it for yourself
With the job market being super tough for every industry, lots of new graduates are finding they can only make an impact by launching their own startups.
And there's no reason you can't do the same. With a little elbow grease, you can turn your inimitable sense of style and eye for detail into a business by opening your own independent boutique store.
Find a shop to let in your favourite area of London through an online property database, look into securing government funding for graduate entrepreneurs and reach out to local design talents you'd love to stock. You'll be up and running in no time.
#3: start your own blog
Back in the day, only Anna Wintour and the hottest A-list celebs could get front row seats for the biggest designer runway shows. Now that row is rapidly filling up with the industry's newest and most powerful players – bloggers and influencers.
Digital savvy with millions of social media fans and online followers, bloggers are a force to be reckoned with in fashion marketing and publishing.
So stop waiting around for Vogue to notice you and instead set up your own blog. Use a free platform like WordPress, get yourself a decent camera and start crafting unique, witty articles no one will be able to resist.
However you choose to break into the fashion industry, remember to be patient and try to have a thick skin. It won't happen overnight and there'll no doubt be tears on the way, but follow your passion and you'll get there eventually.
Category: Fashion