Save Money by Printing Your Own T-Shirts and Hoodies
Are you tired of seeing the same t-shirt and hoody designs in all of the shops? Even if you're not, you're probably dismayed by the amount of money you have to spend on a shirt. If you want to build a new comfortable wardrobe for college, you could easily spend every pound in your savings account. As a student in the capital this leaves you no money for the important things, such as books, food and the student union bar. Have you ever wished you could find cool personalised hoodies and t shirts for much less than the store prices? If you have, then you will be happy to know there is a solution.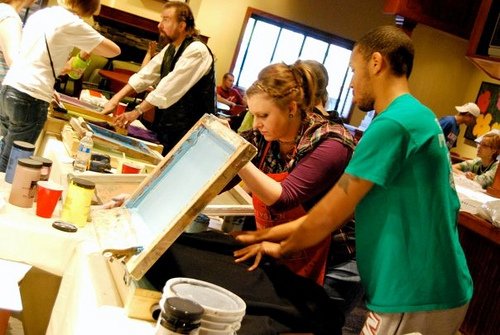 Custom Made Tops for Student Discount
You can have your own custom-made tops designed for a fraction of the price of what you'd spend in a traditional shop. Even when you purchase popular t-shirts online from retail shops, you still have to pay their shipping costs. Why not customize your own top? Have you ever thought of a funny phrase or picture that you thought would look good on a shirt? If so, this is your chance to make that happen. If your idea is so good you want to put it on a shirt, then your friends will probably like it too. You may find that even people you don't know like it. Why not have several printed and sell them? Not only will you pay off the shirt you wanted originally, but you'll be putting even more money in your pocket. With that extra money, you may choose to order more shirts or spend it on tuition, books or food. Of course, there are other important things, such as clothes, money to go on dates or outings with friends or even taking short weekend trips to escape the madness of the books you have to read daily.
College Clothes
Every college student needs a good collection of comfortable t-shirts and hoodys. Sure, you don't want to be boring with plain colours – nobody does. But, why spend a bunch of pounds on a shirt from a retail store that you'll probably see other students wearing around campus? If you're reading this article, you're probably a very individual person and you value your individuality. If that sounds like you, there is no better way for you to express your individuality than to make your own clothes. Pick a phrase that you commonly say, something funny you think of often, an oxy-moron, a clever statement, sarcasm or even an inside joke printed for a friend. No matter what you choose to do, you can enjoy buying as many t-shirts as you want for much less money. Remember – you can also sell your own shirts, too. Why buy from a retail store when you can save and even earn money?