Housmans Bookshop present the British premiere of 'Chomsky and Company', a French produced documentary which critically assesses Noam Chomsky's body of political thought.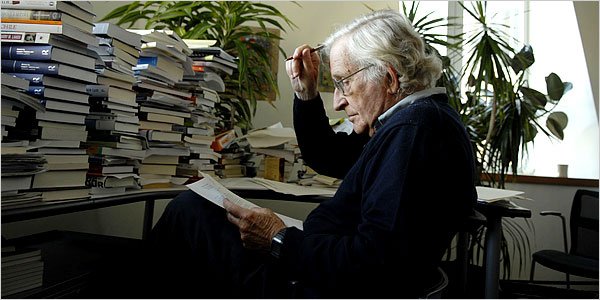 FILM SCREENING – BRITISH PREMIERE
Chomsky and Company
(Chomsky et Compagnie).
France, 2008, 127 mins
Saturday 7th March – 5.30pm
Noam Chomsky has become one of the most well known intellectuals in the world. His books, lectures, film and television appearances have familiarized his rumpled demeanour and revolutionary theories to millions of people, including a number of other influential thinkers and writers.
Co-directors Daniel Mermet and Olivier Azam travel from Boston to Montreal, Toronto to Brussels to uncover the far flung effects of Chomsky's work. Their exhaustive journey touches upon everything from Edward Louis Bernays' advertising techniques to Canadian Normand Baillargeon's 'Crash Course on Intellectual Defense.' The film also explicates many of Chomsky's greatest hits while paying particular attention to Chomsky's thesis that the perception of events often comes down to the interests of corporations, whether they're selling arms or selling news coverage.
This is not a complete love-in, however. The filmmakers, coming from a European position, pose a number of challenging questions including some rather pointed inquiries into the 'Faurisson Affair'–the name given to the scandal that erupted when Chomsky's essay on free speech was used to preface a book by holocaust denier Robert Faurisson.
Covering some of the same turf as Adam Curtis' film 'The Trap: What Happened to Our Dream of Freedom?', Mermet and Azam's film greatly benefits from direct access to the man himself. Love him or loathe him, the sheer volume and scope of Chomsky's work is deeply deserving of a measured and inclusive approach.
_________________________________________
Event information
Saturday 7th March – 5.30pm
Housmans Bookshop
5 Caledonian Road
King's Cross
London N1 9DX
Tel: 020 7837 4473
Free entry
Nearest tube: King's Cross
_________________________________________
Film information
Title:
Chomsky and Company (Chomsky et Compagnie)
France, 2008, 127 mins
Directed By: Daniel Mermet, Olivier Azam
Language:
English/French (with English subtitles)
Certificate:
Exempt from classification
Category: Entertainment, Featured, Politics