Bored? Depressed by the bad weather? Well that can all change! How would you like the chance to really make a difference, to learn about a new and fascinating culture and what's more you'd be doing all this in a beautiful location with the sun shining. LEO Project Foundation, a non-profit, offers you the chance to be a part of several exciting Community & Wildlife Conservation projects in sunny Sri Lanka.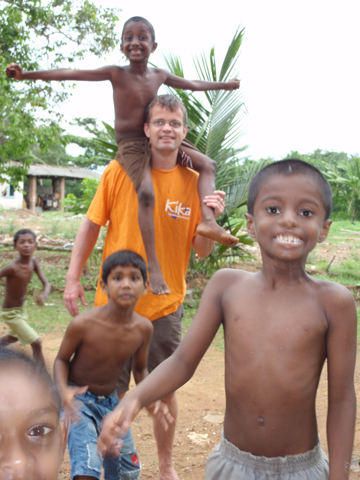 Community volunteer in Sri Lanka – Become involved in a variety of activities and help orphaned children, school children or physically disabled youth flourish. Transfer your knowledge by having fun and playing games, singing songs, playing sports, indulging in arts & drama, teaching English and more. These exciting community projects are for everyone!
Wildlife conservation volunteer in Sri Lanka – Animal lovers would relish the chance to get up close and personal with elephants and sea turtles and give effective and sustainable help to these beautiful beings. Our projects give you the chance to really interact with these animals on a daily basis and optionally participate in nearby community projects for those that feel like giving more. At the elephant project you can even help out at the nearby veterinary clinic for cats & dogs!
Whilst in Sri Lanka you will be given plenty of time to travel as well as to experience the culture at a more local level. Sri Lanka has an embarrassment of riches when it comes to travelling. From seemingly endless stretches of white sandy beaches, ancient cities and an array of spectacular hikes- there truly is something for everyone in this island.
Our in-country team has a wealth of local knowledge and will facilitate your travelling needs- be that before, during or after your project. LEO Project Foundation also offers you the chance to really immerse yourself in the local culture through arranging your stay to be with a local family or at the project site itself; this not only gives you the chance to enjoy the nation's quality cuisine at a local level but also experience the culture firsthand and gain a strong understanding of the country.
We look forward to welcoming you on our current volunteer projects in Sri Lanka:
Elephant conservation project
Sea Turtle conservation project
Sea Turtle conservation project (New! with special discounts)
Working with physically disabled
Join us at our New sea turtle conservation project where we offer super special discounts. Only 6 places available at any one time, so book fast!
For more information about volunteering in Sri Lanka visit www.leoproject.org.
Feel free to email us for any information at info@leoproject.org.