Fancy a hostel holiday this summer but don't have much of your student loan left? Well Budget Accommodation website HostelBookers turns five years old this year, and they are celebrating their birthday with a fantastic summer giveaway!
HostelBookers is the only budget accommodation site with no booking fees, and five years on offers the best quality hostels in over 2,500 destinations worldwide. To celebrate, HostelBookers is hosting a birthday bash with a difference – YOU win the prizes, which range from £500 in cash to top travel supplies, like a Laptop, Canon Digital Camera and a Northface Backpack. To enter, all you need to do is log on to the site and answer a simple question –
In which city did HostelBookers receive their first booking?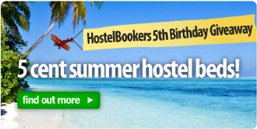 But the party doesn't end there – If you'd rather nab yourself a bargain summer break, check out HostelBookers summer giveaway, where a range of beds in top beach hostels will be sold for only 5 cent per person per night. From a wild city break in a Valencia hostel to a chilled out retreat in Santorini hostels, this is one summer getaway you won't want to miss. Escape for some fun in the sun by visiting the website from 1-5 June at 2pm.