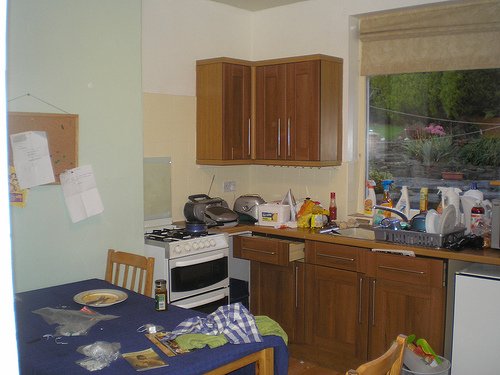 Photo credit: HectortheBat
There are a number of student accommodations to choose from in the London area, where demand for rooms is high. Students want to experience the vibrant nightlife and buzz of this multicultural city from a living environment that is comfortable and safe; today, there are more options than ever for finding accommodation to suit all your needs.
Traditionally, Halls of Residence have always been an option for first year students, as they give them time to settle into University life without the stress of searching for accommodation off campus. Places in Halls are limited however and there are rules that students must abide by.
A room in a private house is an option for those who have not managed to find, or choose not to rent, a shared house. This type of property will generally be well maintained, with no extra bills. However, students need to be aware that their tenancy agreements can be terminated by landlords with a certain degree of freedom as the tenancy is in a private home, making landlords more vulnerable.
Private flats may seem like an ideal solution, but finding one in London is extremely expensive, with the accommodation cost rising by 100%. Most students will opt for shared housing, to avoid such costs.
It is important for students who are searching for accommodation off campus to consider how far from the university they are willing to travel each day and what type of neighbourhood their prospective flat or house share is in. With so many different boroughs in the London area to choose from, a bit of research in the first instance will benefit students greatly in the long run.
Purpose built student accommodation is becoming increasingly popular now, with amenities included and rooms being fully furnished for students. Many of these accommodations are situated close to universities, allowing students a level of reassurance and convenience in the Capital.
Urbanest accommodation originally launched in Australia and has now opened in the UK. It offers students a great community atmosphere and a variety of rooms and study areas in which to relax and experience a home from home. Urbanest also offers students a positive support network that enables them to make friends easily. Accommodation is secure, easy and located in sought after areas of London. This may be a serious contender for the number one spot of best London student accommodation.
Students are able to choose from en-suites, shared rooms and studio flats. Furnished rooms include 20mbps internet access, all utilities, insurance for student possessions and use of all facilities.
Hoxton is a Bohemian neighbourhood with a host of café bars, nightlife and galleries. Urbanest's accommodation in Hoxton has already successfully opened, and is a few minutes' walk from Old Street underground and there are excellent bus routes into the centre of London.
At Tower Bridge, students can choose from markets, bars and cultural activities that are right on their doorstep, while Kings Cross is undergoing a new lifestyle development, with an Urbanest accommodation at its centre. This will open in 2013.
Category: Featured, Student News