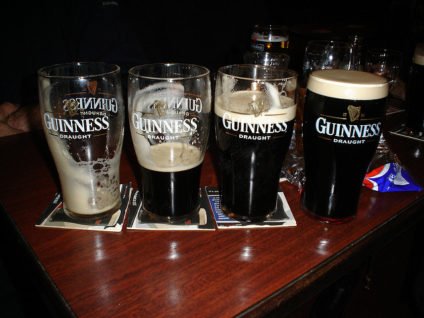 "Guinness" (CC BY 2.0) by SomeRandomNerd
OK, so we know the old cliché about students drinking too much when they should be studying, but if there's one day of the year it's acceptable to have a few, it's St Patrick's Day. Regardless of whether you're from the Emerald Isle or not, March 17 is a day for paddies the world over to done a stupid hat, drink a few pints Guinness and pretend they can river dance like Michael Flatley.
Any student worth their salt will be out and about this St Patrick's Day, but if you don't want to slosh your way through sick in the student union bar, what can you do? Well, depending on how far you want to travel, there are plenty of frivolities you can indulge in as you raise a glass to Ireland's most famous Patrick.
Live It Up in London

"2008 St Patricks Day Festival London" (CC BY 2.0) by renaissancechambara
For starters, if you don't want to venture too far, you could always visit Trafalgar Square before setting off on a makeshift tour of London's finest Irish bars. In what's become an annual tradition, Trafalgar Square's pigeons will make way for hoards of revellers on St Patrick's Day. With everything from children's entertainment to traditional Irish fayre, music and ceilidhs, the event is about as authentic as you'll get in England. What's even better, it's free!
Once you've lapped up some of the Irish culture in Trafalgar Square, it will be time for a drink. Fortunately for you, there are plenty of high quality Irish bars just a few minutes' walk from the festival. The Toucan, just off Soho Square, is, according to Visit London, a place "where you'll find Guinness galore". Once you've filled up on the black stuff, a jaunt over to The Porterhouse for some stout is in order before you hit the West End's Waxy O'Connors for six floors of whacky gothic drinking.
Racing and Drinking are an Irish Tradition

"Horse racing" (CC BY 2.0) by Paolo Camera
What about something outside of London? Of course, London isn't always the epicentre of all that's good and there a few better places to spend St Patrick's Day than Cheltenham racecourse. Although St Patrick's Day actually falls on a Friday this year, Cheltenham is sticking to its traditional Thursday celebrations, so you could actually have two reasons to go out drinking if you really want.
Great, but what about placing a bet? Well, there are no rules saying you have to place a bet once you've paid your entrance fee. However, if you do want to get into the spirit and have a little flutter, there are plenty of odds and tips out there. Online tips and betting aggregator Oddschecker has a list of the latest prices from the leading bookmakers, and if there's one horse that stands out on March 16 it's Irish Saint at 14/1.
Embrace the Irish Festival

"St Patrick's Day Rainbow" (CC BY 2.0) by avrene
For something completely different, how about a trip to Manchester? Instead of limiting its celebrations to just one day, the city is hosting an Irish Festival. Kicking off on March 3 and running through until March 19, the event will feature everything from Irish dancing and comedy acts to pop up restaurants serving proper food and drink, the festival is a great way to get a true taste of Ireland.
Of course, if you simply want to neck a few drinks in the union bar for a quid, then that's fair enough. However, with so many entertaining options out there this year, it would be a shame not to neck a few drinks while you're doing something different from the norm.
Category: Entertainment